In the unfortunate event you accidentally permanently delete your web or database content, we do offer a Backup Service, which you can restore from if you need to. What is shown below will outline what will be required in order for our engineers to proceed with your restore.
For file based recovery we need the directories that need to be restored e.g. all directories in my account, just domain1.com and domain2.com, or even domain.com/path/to/my/directory. For database restores we just need the name of the database(s).
The approximate time you want it restoring from e.g. the latest backup you have, the earliest backup available, any backup prior to x time, last week, last month.
To request a restore, please submit a support ticket from the hosting account the site/s and/or database/s are located on.
For further information please see our Backup Policy.
You can copy and paste an example of the ideal restore request ticket below. 
Subject: File and/or Database Restore Request: yourwebsite.co.uk
---
Hi Support,
Can you please perform a restore, taking into account the following information:
Site:
Files, Database or both?:
Preferred Restore Date:
Preferred Restore Time:
Database(s) To Restore (If a database restore is requested):
Database Type: MySQL or MSSQL?
I've read and accept the privacy and backup policy,
understand File restores are £30+VAT per incident and Database restores are £60+VAT per incident.
I also understand that my account will be charged based on this.
---
Please Note:  If you pay monthly for a backup service on a private server you will not be charged.
Your ticket should end up looking something like this upon being submitted.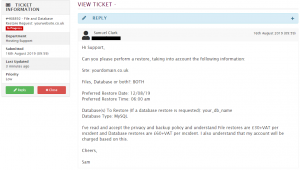 Classification: Public
Last saved: 2021/04/14 at 15:09 by Jamie