Upon visiting a website found via a Google search you may see a warning appear: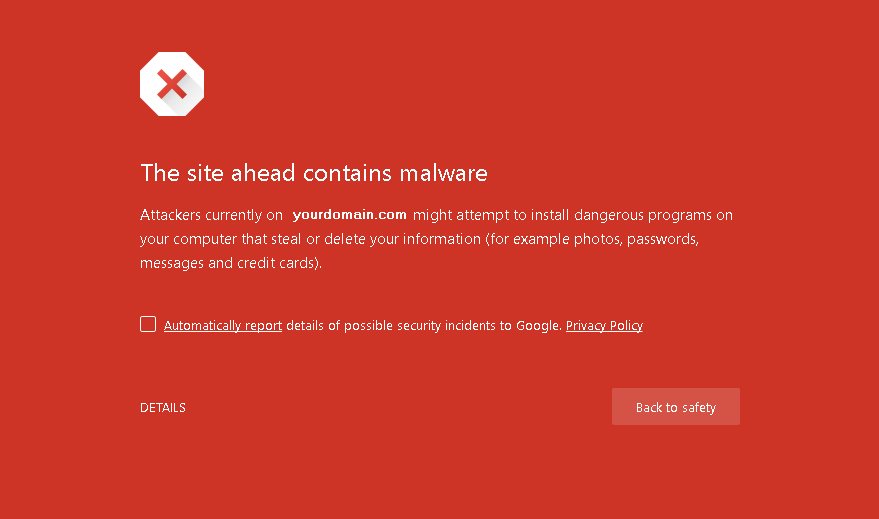 Google indexes the content of your website by using automated robots/scripts to request your site and extracting the information retrieved to generate it's search results and your position in those results. Google also examines the content it retrieves for malicious code that could infect or compromise a visitors computer.
Is there an easy way to check if a site is safe?
Fortunately, Google has created a diagnostic tool to allow users to see reports taken of their websites.
What are the different levels of security status?
When searching for a website there are 3 different levels that google may report:
Dangerous: The website in question likely installs malware on a visitors computer, tries to redirect the user to a dangerous site, or tries to trick a user into installing a dangerous programme.
Partially Dangerous: The website may attempt to deceive a visitor to visiting a dangerous website.
Not Dangerous: The website is clean and safe for all visitors.
What should I do if someone else's site is getting this warning?
Never ignore the warning! You should not proceed to visit this website.
If you know someone responsible for the website, then it might be nice if you let them know but never ignore the warning.
What should I do if my site is getting this warning?
This means your website may harm a computer visiting your website. It is most often a problem with your website itself due to the hosting of outdated, unsecured or otherwise exploitable software/scripts, but in some circumstances it can be the result of external data sources being pulled into your own website (RSS, external JS or CSS). In rare circumstances this particular message can be the result of a problem with your local computer or local network devices being infected and leaking FTP or other login information to malicious persons/scripts.
You should first ensure the computer you are working from is virus scanned, secured and free from any virus and be confident that your internet connection or other devices upon it are similarly secure and private.
Once your local computer is secure we recommend running through our hacked website guide.
If in doubt please ask the support team and we'll do our best to help.
Finally, Once you feel the site is safe again you can request a malware review from within your Google Webmaster tools.
What should I do if I feel my website is being falsely flagged by Google?
The first action you should take is informing us to see if we can identify any possible infection that you have not spotted.
If however nothing can be found, you can submit your site for a malware review by going through the steps outlined here.
What If i suspect a website is distributing malware, but has not yet been caught by Google?
Google has set up a malicious software reporting form and a suspected phishing page form which can be utilised to force check a website that you may suspect.

Classification: Public
Last saved: 2023/07/05 at 14:09 by Jamie