This guide will show you how to purchase ad hoc (needed/necessary) engineering time using our WHM system at whm.pipe.co.
1. Login to your WHM account at whm.pipe.co. You can use your existing purely.domains account's credentials if you have one. You can also sign up for a new account free of charge if you need to.
2. Click on the Services drop down tab and select Order New Services.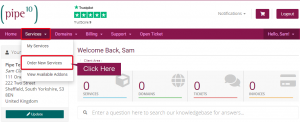 3. Click on the Order Now button under the Ad Hoc Engineering section. You're also welcome to purchase bundled units if you plan on multiple works requiring completion over a longer time period. These come in a bundle of 5 hours of engineering time, free to use at any time you wish.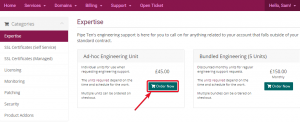 4. You'll then be redirected to your Cart, where you'll be able to Checkout with the service you have purchased.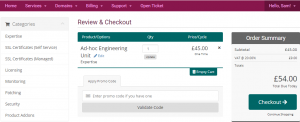 5. Upon clicking Checkout, you'll be sent to the page shown below. Please ensure your billing information is correct. You'll then need to select the payment method you wish to use.
Once you have done so, please input as much information as possible into the Additional Notes section. If the engineering hours are being purchased to cover a task mentioned in a support ticket, please quote the ticket ID you'll have received when submitting the ticket.
Please read our Terms of Service and confirm once you have done so by ticking the check-box below the Additional Notes section. You should then be able to complete your order by clicking the blue Complete Order button.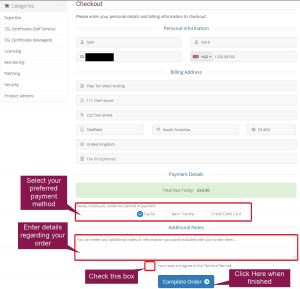 6. After completing your order, you should be sent to the confirmation screen below.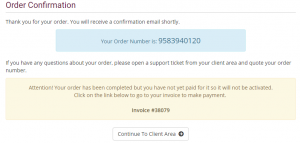 You'll also be sent a confirmation email similar to the one also shown below.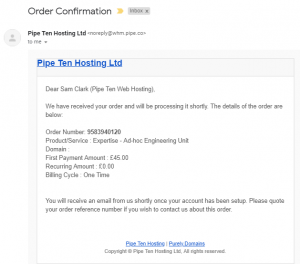 Please take a note of your Order Number and Invoice Number in case you need to refer to them in the future.
7. Once an invoice has been generated, you'll be sent an email containing a rough summary of what you have ordered and what the invoice contains. The invoice itself can be downloaded as a .pdf if you need it thanks to it being attached to the email.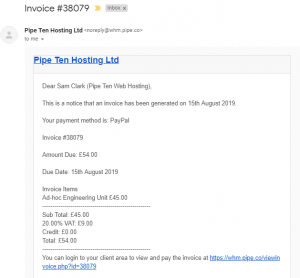 Unpaid Invoice
If your invoice is showing as unpaid, we'll be unable to proceed with completing the services you have ordered until payment has been completed.
Please pay the invoice by clicking the link shown at the bottom of the invoice email you'll have received. It will send you to the page shown below, where you can pay for the invoice by using the drop down menu at the bottom right hand side and clicking the payment button on the top right.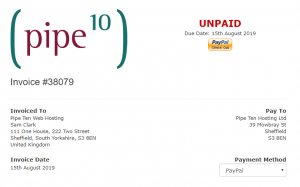 Classification: Public
Last saved: 2021/04/14 at 15:16 by Jamie