This guide has been written to help guide you through the process of ordering your own Self Managed SSL certificates. Due to these SSL certificates being self-service, we are only able to offer a limited amount of support, however this guide will tell you everything that you need to know.
Ordering an SSL Certificate
1. Order the SSL certificate you wish to use by clicking the Order Now button.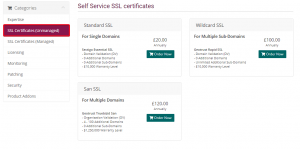 2. After doing the above step, you'll be redirected to your cart where you'll need to proceed with Checkout for your SSL certificate order. Simply click the Checkout button shown below to continue.

3. Once you've proceeded to Checkout, you'll need to make sure your billing details are correct. These will auto-fill based on the billing address details already on your account, however you can alter these if you need to. You can choose to pay via credit on your account if you have any, or you can choose the payment method you wish to use if you have one already on your account. Once you're happy with the details you have given, agree to the Terms of Service by clicking the checkbox and click Complete Order. Please ensure your payment details are valid and payment is able to be taken, otherwise this will cause a delay in processing your order.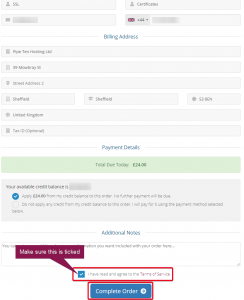 4. You'll then proceed to an Order Confirmation page where you will be greeted by your Order Number. It is important you take note of this in case you require support in the future regarding the order. Once you have done so, it is safe to leave this page.
5. Once we have received the order we will then process this as soon as possible. If there are any issues with your order, we will get in touch via the contact details on the account. If you have any issues with the order you have submitted, please submit a support ticket via your Client Area and provide the Order Number you have taken note of for our reference.
Configuring the SSL Certificate
1. Once your SSL order has been processed, you will then receive an email labelled with the subject of SSL Certificate Configuration Required. If you have not received this email, please ensure you check your spam folder before getting in touch with us. An example of the email can be seen below. In order to proceed with the configuration of the certificate, click the link within the email to be redirected to the page where you can perform the configuration.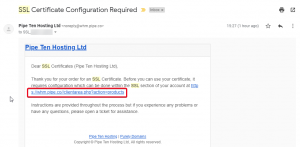 2. The link will send you to this page shown below, where you will need to click on your most recent SSL order that isn't shown as configured or complete.

3. After doing the above, you'll then need to click Configure SSL Certificate, as shown below.

4. You will then be taken to a page where you will need to input the type of Web Server your website is hosted on, as well as a Certificate Signing Request (CSR) that you will need to generate yourself. If you're hosted with Pipe Ten's managed hosting services, you will need to select H-Sphere and will be able to generate your CSR through the control panel, otherwise you will need to get in touch with your current hosting provider to see what specifications they use. We are not responsible for your certificate's Private Key. You will need to generate and keep hold of this via your own methods for when it comes to installing the SSL certificate.
5. Make sure you check the email address under the Administrator Contact Details as it needs to be correct and able to receive emails. This will be where any notifications regarding certificate expiry and renewal dates will be sent to.
6. After providing all the required details, you'll then need to proceed and be given a list of emails/mailboxes to choose from to send the validation email to. This will also be where your certificate gets sent once domain validation has been completed. Ensure the mailbox chosen here is accessible and able to receive emails so that you can complete the configuration. It is also a good idea to check on the left hand side that all the information within your CSR is correct.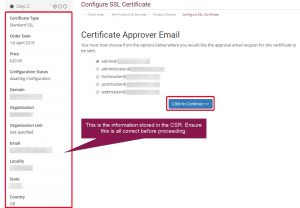 7. After choosing which email address to have the email sent to, you should receive one that looks like the one below. You will need to follow the link and input the provided code to complete domain validation.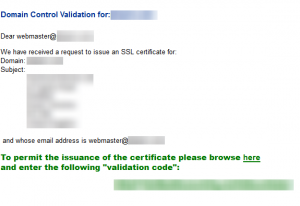 8.  Once domain validation is successful, you should shortly receive an email similar to the one below. You can either download the certificate with its intermediate/chain certificate, or you can copy the plain text version of the certificate towards the bottom of the email. Ensure you include the —–BEGIN CERTIFICATE—– and —–END CERTIFICATE—– parts of the certificate.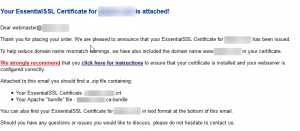 9.  If your website is hosted on Pipe Ten's web servers, you should be able to install the SSL from this point onward using your RSA Private Key and SSL Certificate. If your website is hosted elsewhere, you'll have to contact your web hosting company to find out how to install the certificate on their servers.
Last modified: 14/10/2019