If you have installed FileZilla recently it is important you read this post.
1. Open Filezilla and connect to your account.
2. Navigate to and select the files/folders you wish to alter permissions for, Right click > File Permissions….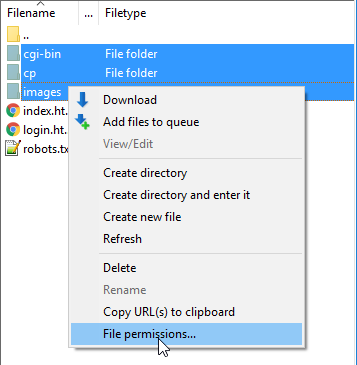 3. Set the permissions you wish to apply. Recursion can also be selected to apply the permission set to all child directories/files.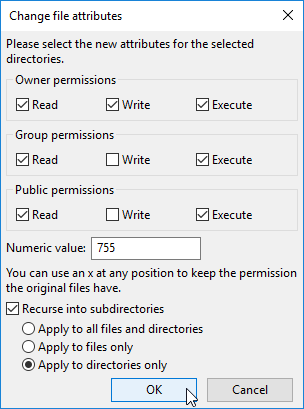 The recommended permissions to set are as follows:
Folders/Directories: 755  (-rwxr-xr-x)
Single Files: 644  (-rw-r–r–)
Some Sensitive Files such as wp-config.php:  440 or 400 (-r–r—– or -r——–)
Please note: It is never recommended to have 777 (-rwxrwxrwx) permissions set on any file or directory.

Classification: Public
Last saved: 2019/08/16 at 14:02 by Jamie