If your Domain Management is done through purely.domains, you can use this guide to link your purely.domains account to your hosting one. This is useful for using my.pipe.co to gain access to your hosting control panel, as well as your domain management services. You can also get support for your purely.domains account through the interface after linking up your accounts via my.pipe.co.
1. Login to my.pipe.co using your hosting control panel username and password (you will not be able to link accounts by logging in with your domain registration details).
2. If this is your first time logging in to the system, it will automatically try to find any other accounts with the same email address. If one is found you can click the Link button and enter the domains or hosting account password. Simple.

3. If no account is found with the same email address, then you can manually add the account.
4. Click on the black Accounts button, under the heading Link New Account, select the type of account you wish to manage, either Domains or Hosting from the drop down.
5. Enter your hosting username/email address and password and click + Link Account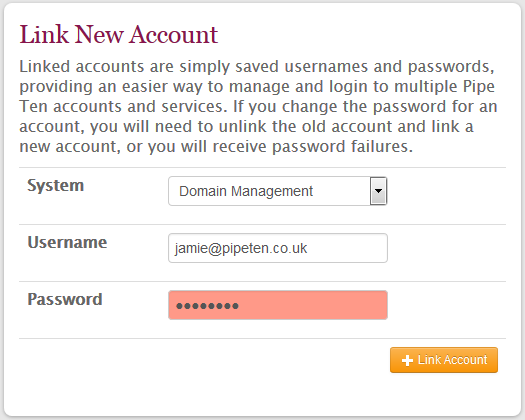 6. You will now see your new linked account under the Your Accounts heading and you will be able to just directly log in to any of your accounts by using the corresponding Login button.

Classification: Public
Last modified: 2019/08/13 at 14:01 by Jamie